Upcoming Conferences That I am Speaking at
I have a few speaking activities lined up in upcoming weeks on ASP.NET 5 and DLM and I thought it would be good to share these with you all :)
Related Posts
I have a few speaking activities lined up in upcoming weeks and I thought it would be good to share those with you all :) I am very excited about them as I don't have much international speaking experience and these will be a really good learning opportunities for me, while having a chance to share the knowledge at the same time. As you can imagine, most of these talks are related to ASP.NET 5 which is the best thing that has happened to .NET Web stack if you ask me :) Here are all of them:
/dev/summer 2015, Cambridge (27th of June)
/dev/summer is of the great developer events in Cambridge and it happens twice a year. I was lucky to attend the /dev/winter 2015 this year and I am looking forward to /dev/summer 2015, too. I will be talking about DLM (Database Lifecycle Management) and I will try to set a clear understanding of the advantages of embracing DLM, where your process fits today and how you can apply the described patterns and practices. You can register for the conference and get your ticket here. Also, you can use the discount code of "Speakersfriend" which will give you a 30% discount. You can alternatively use this link to get this discount. You can view the full event schedule here.
Progressive .NET Tutorials 2015, London (3rd of July)
Progressive .NET Tutorials 2015 is a 3-days .NET developer conference in London and has a really good content from awesome speakers. I will be giving two talks on the last day of the event and both of them are about ASP.NET 5. The first one is titled as "ASP.NET 5: How to Get Your Cheese Back" which I will talk about the biggest, drastic changes in the upcoming version of ASP.NET but I will try to prove that these changes will make you smile. The next one is "Going Further with ASP.NET 5" which will be slides-free, dig-deep-into-the-bowels-of-this-new-runtime kind of talk. Check out the full schedule here and you can register for the event here.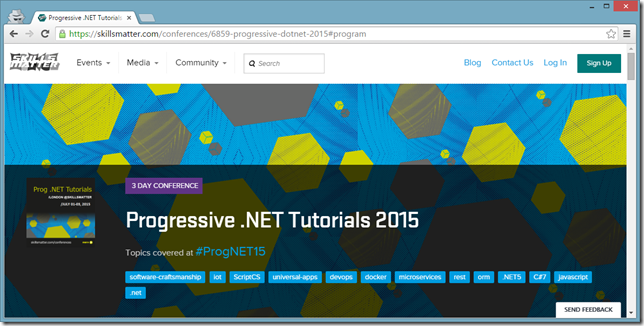 That Conference 2015, Wisconsin Dells (12th of August)
I will also be speaking at That conference 2015 about ASP.NET 5: ASP.NET 5: How to Get Your Cheese Back. "Which conference? That Conference!" (obligatory That Conference joke :p) I am particularly excited for this one as it will be my first trip to US and I will make sure to whine about jet lag stuff on Twitter when I get there :) Jokes aside, you can see the conference schedule here and register for the conference here.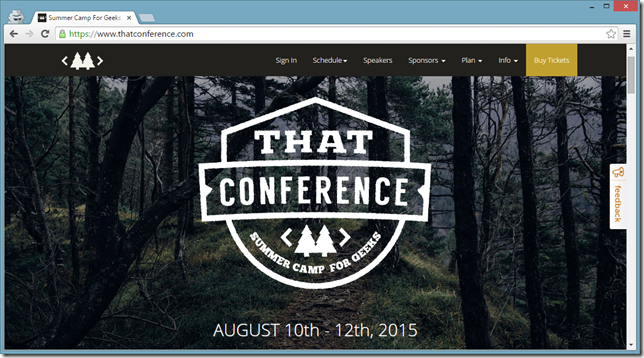 Thanks to these conferences, I am hoping to meet bunch of new and old frıends. Make sure to come and say hi if you are at one of the events :)