Upcoming Conferences and Talks
I am going to be at a few conferences in upcoming weeks and I would like to share them here with you. If you are going to be around for any of the below events, let's meet and say hi to each other :)
Related Posts
I am going to be at a few conferences in upcoming weeks and I would like to share them here with you. Main objective here is to tell you about where I am going to be and this should help meeting new people and learning about different experiences. Jeremy Clark, a friend I met at Codemash 2016, has an amazing blog post on becoming a social developer. I encourage you to check that out to see why and how.
DevConf, Johannesburg (8th of March)

I am very, very excited about DevConf. Source of this excitement is the talk I will deliver there and the content of the conference. I will be presenting on architecting polyglot-persistent solutions as part of the Persistence and Data track. This is a topic which is very close to my heart as I had the first hand experience while working on Zleek on what a big difference this type of architecture can make on your software product. It will also be the first time I will deliver this talk.
Rest of the agenda also looks pretty impressive. So, I am sure this will be well worth the long trip to South Africa :)
Microsoft Build 2016, San Francisco (30th of March - 1st of April)

At the end of March, I will also be in San Francisco to attend Microsoft Build conference. This is also very exciting for several reasons. Obvious one is that there will be a lot of existing and soon-to-be friends there from the community and this is a very developer centric conference in view of Microsoft products. Also, I don't get to attend conferences that often as an attendee. I am sure I will feel the comfort of gliding through the session rooms and not trying to prepare for a talk. If you add the fact that this is going to be my first trip to San Francisco, it will be a real fun :)
Last year, my wish for Build Conference announcements came true with Visual Studio Code and I am very much looking forward to this year's announcements, too.
interesting to see this just a month before #Build2016. This took my expectations to a higher level for announcments https://t.co/uefSFy6atX

— Tugberk Ugurlu (@tourismgeek) February 24, 2016
I T.A.K.E. Unconference 2016, Bucharest (19th - 20th of May)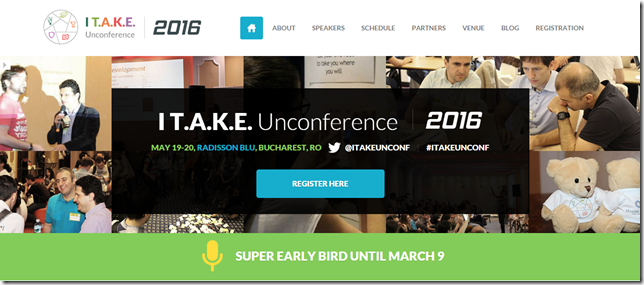 At I T.A.K.E. Unconference 2016, I will talk about two very interesting topics and I think both of them are very interesting considering the type of software solutions and the way we produce them nowadays.
I am very much looking forward both of them since it's going to be the first time that I present these sessions. It seems like it's still possible to register and you can also check the rest of the schedule out here.
If you are going to be around for any of the above events, let's meet and say hi to each other :)