Filtered by Tag (polyglot-persistance)
I had an amazing time in Johannesburg this week and had the privilege to attend DevConf 2016 as a speaker. I gave a talk on architecting polyglot-persistent solutions and you can find the slides and resource in this post.
---
---
I had an amazing time in Johannesburg this week and had the privilege to attend DevConf 2016 as a speaker. I got to travel to South Africa for the first time and I really liked the country, especially the food :) Also, I tried to be a social developer and had a chance to meet with a few new amazing folks like Colin Dembovsky, Lisa Basel, Chris Tite, Mark Pearl and many others that I cannot remember right now after a few beers at Dubai airport while writing this blog post :)
During the conference, I attended a few other talks apart from giving one. Here are all of them:
A year of dealing with RabbitMQ
Lap around Azure Machine Learning
Getting Started with Analytics (GTM and GA)
Brownfield TDD: How to eat an elephant?
Adjust your behaviour and be surprised how much you can influence your team
Building real world microservices using Node.js
I generally like to summarize my impressions I gained throughout the conference (e.g. Codemash 2016, NDC Oslo 2014). Here are those from DevConf:
People are pulling away from so-called Microsoft stack as much as it makes sense, especially on the data storage part. This is a good thing for everyone, even for Microsoft. Microsoft being more open has the biggest effect on this.
People who experienced relational database architecture where the business logic sits inside the database seems to have learnt the lessons very well.
Microservices had its appearance throughout the conference again :)
Polyglot persistence seems to be what most of the people are applying today without knowing the term that much :) Not knowing the term is no problem at all. Remember: this type of terms (e.g. Microservices) help communicate during planning processes and discussions easier.
Application and Database Lifecycle management is more about the culture and less about the tools. People who want to adopt this culture seek advice from consulting companies, they need tools just to get the job done.
Infrastructure as code is grabbing more and more attention.
My Talk: Architecting Polyglot-persistent Solutions
Apart from a few logistical problems during my talk (like electricity going out completely!), it was really good overall. This was very first time I have given this talk and it was based on the experience I had over a few years on Zleek.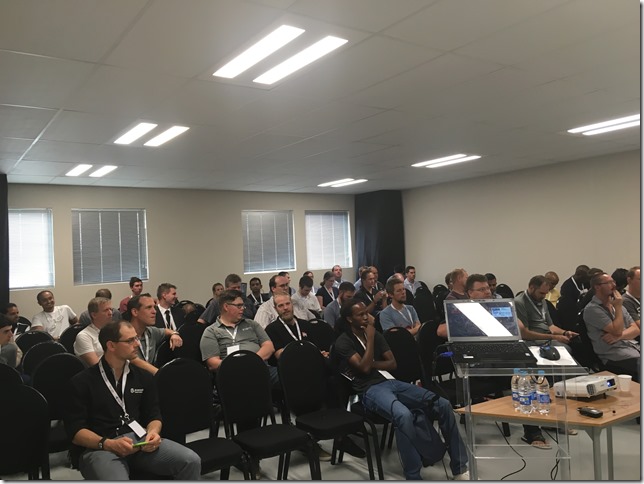 You can find the slides under my Speakerdeck account here.
Here are also a few more links that you may find useful on this topic:
Special Thanks
I would like to thank all the DevConf team who made this conference happen and all the audience for their amazing attention for the conference. I am especially impressed with the attention to the detail that the DevConf team has shown.
I am going to be at a few conferences in upcoming weeks and I would like to share them here with you. If you are going to be around for any of the below events, let's meet and say hi to each other :)
---
---
I am going to be at a few conferences in upcoming weeks and I would like to share them here with you. Main objective here is to tell you about where I am going to be and this should help meeting new people and learning about different experiences. Jeremy Clark, a friend I met at Codemash 2016, has an amazing blog post on becoming a social developer. I encourage you to check that out to see why and how.
DevConf, Johannesburg (8th of March)

I am very, very excited about DevConf. Source of this excitement is the talk I will deliver there and the content of the conference. I will be presenting on architecting polyglot-persistent solutions as part of the Persistence and Data track. This is a topic which is very close to my heart as I had the first hand experience while working on Zleek on what a big difference this type of architecture can make on your software product. It will also be the first time I will deliver this talk.
Rest of the agenda also looks pretty impressive. So, I am sure this will be well worth the long trip to South Africa :)
Microsoft Build 2016, San Francisco (30th of March - 1st of April)

At the end of March, I will also be in San Francisco to attend Microsoft Build conference. This is also very exciting for several reasons. Obvious one is that there will be a lot of existing and soon-to-be friends there from the community and this is a very developer centric conference in view of Microsoft products. Also, I don't get to attend conferences that often as an attendee. I am sure I will feel the comfort of gliding through the session rooms and not trying to prepare for a talk. If you add the fact that this is going to be my first trip to San Francisco, it will be a real fun :)
Last year, my wish for Build Conference announcements came true with Visual Studio Code and I am very much looking forward to this year's announcements, too.
interesting to see this just a month before #Build2016. This took my expectations to a higher level for announcments https://t.co/uefSFy6atX

— Tugberk Ugurlu (@tourismgeek) February 24, 2016
I T.A.K.E. Unconference 2016, Bucharest (19th - 20th of May)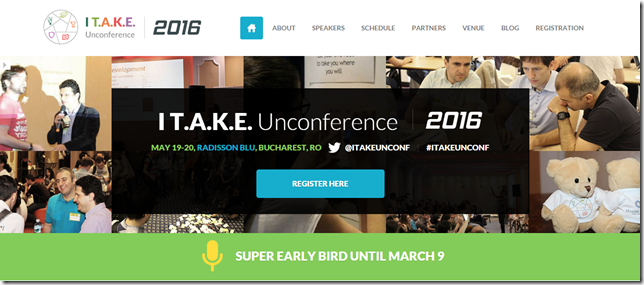 At I T.A.K.E. Unconference 2016, I will talk about two very interesting topics and I think both of them are very interesting considering the type of software solutions and the way we produce them nowadays.
I am very much looking forward both of them since it's going to be the first time that I present these sessions. It seems like it's still possible to register and you can also check the rest of the schedule out here.
If you are going to be around for any of the above events, let's meet and say hi to each other :)
---