Filtered by Tag (software-engineer)
It's very common that you get asked about your proudest achievement. I wanted to put mine here publicly so that I would have a place to direct people to. So, here it is :)
---
---
It's very common that you get asked about your proudest achievement. I wanted to put mine here publicly so that I would have a place to direct people to. So, here it is :)
My proudest achievement to this day dates back to 2010. I was working at a local Travel Agency in Turkey while still studying Travel Management at the university and we had a Web site for our customers to book their airport transfers from/to their hotels by paying online. However, the application didn't allow our customers to book additional services with extra cost such as baby booster seat. In addition to this, we were unable to reflect our pricing accurately for particular conditions due to the limitations on the system. At the time, I was working at the reservations and booking department but I had a huge interest on software development, especially on web applications.
When our web developer left the company, I prototyped the algorithm to calculate the airport transfer pricing on SQL Server based on the number of passengers, arrival and departure dates. I presented this to my manager who was also in charge of the company's online sales, and asked for a budget and time for developing a new airport transfer booking system for the company. I explained that this system would have the same features as the old system along with the additional features we have always wanted. This was going to allow us to provide better service to our customers and reflect cheaper prices by having a maintainable system to build upon. My manger believed in me, and gave me time and budget to invest on this. I spent a month to develop the system and its content management system by coding the business logic in C# (while learning it at the same time), developing the user interface as a web application using HTML, CSS and JavaScript, and integrating it with an online payment system. I had to deal with lots of things I hadn't known about but having a good support from my manager made me always trust myself and keep pushing to come through all the obstacles. We rolled out the system under a different domain name first and advertised it through Google AdWords‎ (you could see that version see here even if the styles and functionality don't quite work on web.archive.org). Within the first 5 hours, we sold a Private Minibus Transfer through the system Over the weeks, we directed all our transfer booking channels to this new system and kept evolving it. After two years, the system sold 32% more transfers than the old system and yielded 26% more revenue. The final look of the system is still running here and maintained by the company (I should point out that I am not entirely responsible for the new look of the site , especially for those red primary action buttons!). Proving myself with this achievement also gave me a chance to take more responsibility on software engineering at the company and I was able to get a budget for an accommodation booking system (it can been found on web.archive.org) which yielded extra revenue for the company for a few years.
Lots of things happened after this and I achieved so much more such as being part of several successful teams to create valuable software products, being published, having the Microsoft MVP award for 5 years in a row, speaking at lots of international conferences, maintaining a successful blog for 7+ years and many more. However, nothing was able to beat that because it was a unique opportunity to be able to fight for something I truly believed in. Besides that, having a true leader as your manager is a unique opportunity. He trusted me and my skills, and when looking back at this now, it's very clear to see that I would never have become a good software developer without this trust and my confident in myself.
What's Your Proudest Achievement?
Well, it's your turn. Hopefully I encouraged you to share yours publicly as well. Please share yours as a comment here, preferably by linking to your blog post which you are about to write :)
What does good look like for a software engineer? This is a question you might be asking frequently to yourself and I tried to share my thoughts on the topic with this blog post.
---
---
If you are a software engineer, this is a very common question you will get to ask yourself a lot. This is going to be especially very frequent if you are being part of the recruitment process in your company. As you may know, I work at Redgate, and we have a good culture for development teams. Besides that, common characteristics of a good engineer with examples and counter examples for each engineering role are defined, too. This is a really good guidance for the employer to reflect their culture for a particular role. It's also good for the employees to understand where they are on being an effective employee.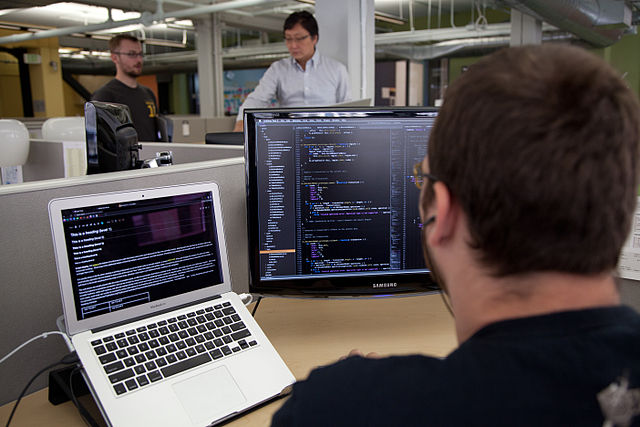 (Image is from https://commons.wikimedia.org/wiki/File:Coding_Shots_Annual_Plan_high_res-5.jpg)
I got inspired by this and I wanted to share the list of principals I value and look for within a software engineer. Obvious disclaimer: this is not the list of principals that my employer values even if the most of them are pretty similar. As we got the disclaimer out of our way, let's see these principals:
Knows the fundamental concepts, data structures and common algorithms rather than only being too good with a programming language or a specific framework w/o understanding the basics. In other words, know the basics and be polyglot.
Has good communication skills - both verbal and written. Without this, it's impossible to be a good software engineer.
Being pragmatic - Works incrementally and balances delivering value frequently with delivering high quality.
Iterates fast - Values Continuous Integration (CI) and Continuous Delivery (CD), makes their code fail fast, enforce consistency and keep master branch releasable. Your release process should as easy as adding a git tag as a valid semantic version.
Cares for sustainability - Strives for producing code which will sustain for years, even decades. Not one-off, works-now-who-knows-when-it-will-stop-working ones.
Knows the business - Cares to understand the business domain and strives for establishing an ubiquitous language between the software product team and stakeholders.
Strives for THE BEST UX - Makes user experience the part of the product completeness.
Being a team player - Works with their peers, gets/gives code review from/to them. Develops their skills while they are developing their own. Should strive for being transparent to the team all the time.
Knows the metrics but also has a vision - Should know the metrics and how to get them to make decisions. However, they should have a vision at the same time, too. They should not have the "Let's ask the users" mindset as the default approach for product feature decisions. Remember, good artists copy; great artists steal! The problem you are trying to solve has been probably solved within the same or a different context. Find that, bend it and apply differently.
Disagrees and commits when needed - Should not be shy about getting their opinions out and pursue them. However, they should also know that a decision has to be made, and when that's the case, they should commit fully and try to get the best out of it even if it's not the decision they wanted to see.
Values open source and contributing back to software community - Has a blog, gives talks at conferences or user groups, contributes back to open source projects. Simply shares what they are proud of with others openly.
There are probably more but these are the most important ones that I care about and value at a very high level. However, I wonder what yours are, too. Therefore, please share them with me here by send me a comment.
---